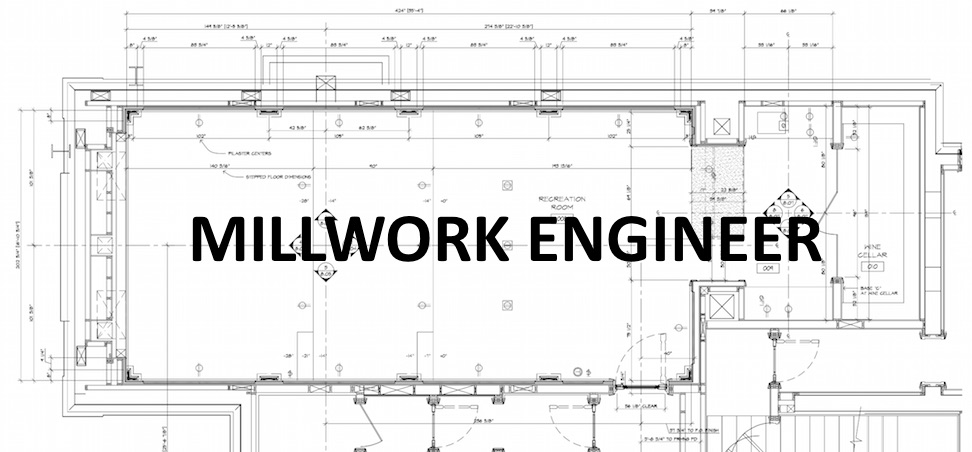 Millworks by Design is a growing company with crews based in Los Angeles and the surrounding areas. MBD is a full-service millwork company specializing in high-end residential and boutique commercial projects. Our work ranges from finish carpentry/trim packages, all the way to full service woodwork packages with doors/windows, trim/paneling, stairs, casework, and exterior finish carpentry. Our clients are top contractors and architects, and they enjoy working with us because we are committed to delivering world-class customer service, productivity and craftsmanship.
As a Millwork Engineer you would assist the Project Manager by drafting millwork details and submittal drawings, preparing material lists, specifying hardware and assembling clear information packages for handoff to manufacturing, purchasing and the field crew.
QUALIFICATIONS, KNOWLEDGE & SKILLS:
Ability to read and understand architectural blueprints.
Proficient with Excel, Word, Outlook and PDF markup and editing.
Proficient with AutoCad and SketchUp and high level millwork shop drawings.
Experience with cabinet and door hardware.
Experience with material takeoff and cut billing.
Focus and Discipline – Ability to determine what needs to be done, when it should be done, and not get distracted with things that aren't critical.
Can Do Attitude – Even when things look difficult, press ahead and look for solutions.
Great written and verbal communication skills.
Preferably have knowledgeable of the finish carpentry, cabinet making and millwork trade, but not required.
KEY AREAS OF RESPONSIBILITY & EXPECTATIONS:
Shop Drawings
Your shop drawings are extremely high quality and are complete: They show every detail needed for installation as well as any trouble shooting or coordination needed with adjoining trades. They include material, appliance, fixture and hardware specifications. These drawings actually make our field crews more productive because they are so accurate and easy to build off of.
Design Detail Specification
You support the PM and our clients by being involved in project design meetings and helping to flush out and specify every unknown detail. You track and record these details so that they are not missed when we are shop drawing or building product.
Assist the PM
You assist the PM by completing various project tasks such as preparing submittals, tracking submittals, material takeoff and cut billing, hardware specification, management of door, window and cased opening schedules, material orders and writing change order requests.
Best Practices
You work with the Foreman team, PM team and Estimating team to identify Best Practices for the field crews. You support the Best Practice effort by creating illustrations of methods and quality standards and by brain storming more efficient installation methods.