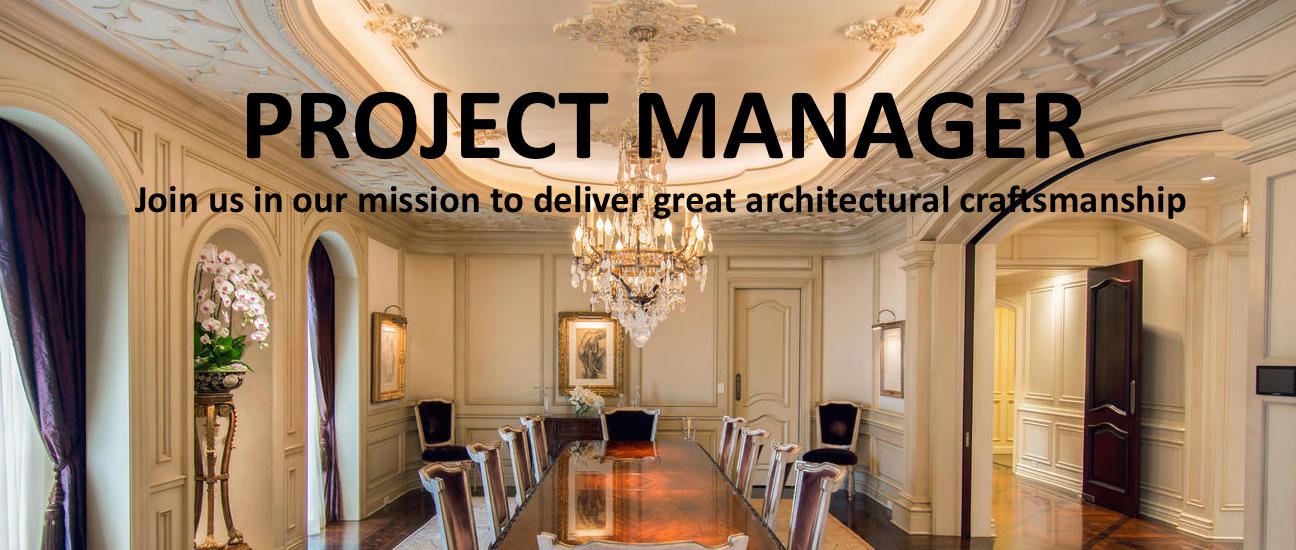 GENERAL POSITION INFORMATION:
Reports To: General PM, Ops Team Members
Direct Reports: Foremen
Schedule: Set your own schedule, typically 40-50 hours per week
Compensation: Salary + Bonus
Benefits: Paid holiday, vacation, sick time, Medical insurance, Matched 401(k), company phone & laptop, monthly car allowance
ROLE SUMMARY:
The Project Manager is assigned a portfolio of projects and is the primary responsible party for planning, resourcing, billing, tracking and closing out that portfolio on time, within budget and to the satisfaction of our clients. The Project Manager leads, manages and coordinates the efforts of all parties involved in completing a project: foremen/crew, estimating, engineering, purchasing, accounting, logistics and outside vendors.
QUALIFICATIONS, KNOWLEDGE & SKILLS:
In full agreement with MBD Core Values.
Knowledgeable of the finish carpentry and millwork trade.
Proficient with Excel, Word, Outlook and PDF markup and editing.
Organized - Ability to track and prioritize many moving variables at one time.
Focus and Discipline – Ability to determine what needs to be done, when it should be done, and not get distracted with things that aren't critical.
Ability to Zoom in and Zoom out – When there is a lot on your plate, the ability to operate at a global/summary level and then zoom in with great detail where needed is crucial.
Planner – Ability to look ahead and forecast potential issues, and create a long term action plan.
Candid, but diplomatic – Is realistic about abilities, schedules, and promises made to clients. Speaks up about internal, and external problems, but does it in a way that is polite and not offensive.
Can Do Attitude – Even when things look difficult, press ahead and look for solutions.
Written and Verbal Communication skills – Clear and concise communication, avoids being vague.
Knowledge of and ability to sketch millwork details.
SketchUp or AutoCAD experience is a plus but not required.
SOFTWARE TOOLS:
Microsoft Office – Excel, Word, Outlook
Cloud based file storage
Web based project management and task assignment software
Web based CRM software.
SketchUp or AutoCAD a plus.
KEY RESPONSIBILITIES:
1) You approach your group of jobs like the CEO of a small company.
You take full responsibility for achieving the Company's mission, making happy clients and delivering gross profit to the Company. You manage your team of foremen, craftsmen and vendors in accordance with MBD's core values. You project and track the performance of your portfolio.
2) You plan the work.
You make sure the scope of work is clear and organized so it can be tracked in a meaningful way. You break the project up into manageable "chunks" of work that will be released to the field. You prepare an overall project schedule that visually demonstrates your plan for how the project will progress.
3) You resource the project plan.
You look ahead and work with supporting team members to make sure that needed resources (human, material, equipment, capital, information) are lined up and available when needed and when scheduled.
4) You communicate the project plan.
You communicate with our clients, supporting team members and the Foreman about our plan of action and make sure that it aligns with other trades and the project needs. You change the project plan if needed to help the project be more successful.
5) You implement the project plan.
You release work to the support team members along with all critical information so that materials and product arrives on site on time and so that the Foreman can commence planning and execution of the field tasks in a timely manner. You make sure that all resources needed to complete the field tasks are delivered and that any critical trade coordination needs are communicated and followed up on.
6) You monitor and bill for progress and make corrections to the project plan.
As the project plan is being executed, you constantly track progress and make corrections to the plan when needed. You adjust resources levels accordingly if we are falling behind. Constant communication is maintained between you, the client and your Foreman to insure that no balls are dropped. You track budgetary performance and respond to red flags promptly. You prepare project billings that are accurate and on time.
7) You document and communicate the results and issues – Complete 100%
You make sure that your portfolio and various project progress reports are accurate, include risk items and successes, and are communicated to the executive team as well as other relevant parties. You track and document issues and make sure that After Action Reviews are conducted as field tasks are completed so that Best Practices are shared, craftsmen performance is tracked and rewarded and so that Estimating can respond to budgetary issues.