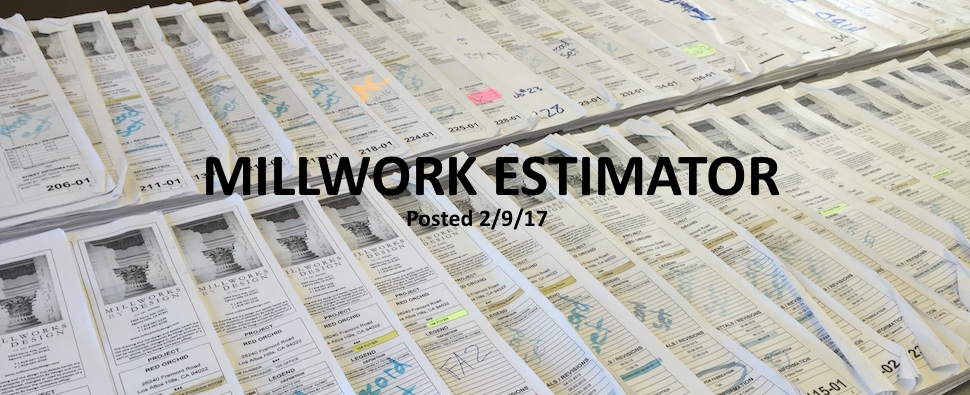 Millworks By Design is seeking an experienced millwork estimator to join our Estimating department. We are a full-service millwork company specializing in high-end homes and boutique commercial projects. Our projects range from finish carpentry/trim packages, all the way to full service woodwork packages with doors/windows, trim/paneling, stairs, casework, and exterior finish carpentry.
A millwork estimator at MBD is responsible for reviewing plans and performing accurate takeoffs of all woodwork scope items, pricing those items with the appropriate vendors, and preparing clear, detailed bids that convey what we've bid, how we've priced it, and what's not included so that our clients and our field team can understand our scope. Estimators are also responsible for communicating with our clients and our vendor partners during the pricing process, making sure bid deadlines are met, maintaining clear documentation on completed bids, and preparing hand-offs for the field team on awarded bids. This is not a sales position.
The successful candidate will have previous construction or woodwork experience, preferably as an estimator. They will also have advanced plan reading skills, a thorough working knowledge of finish carpentry & millwork, and a familiarity with the construction industry in general. Previous experience with high-end construction (residential or commercial) is strongly preferred. Strong written & verbal communication, strong Excel skills and familiarity with Outlook are a must. Familiarity with Bluebeam is a plus but not required.
The successful candidate will also be organized, a self-starter, and a creative problem solver. They will be a team player who's comfortable in a fast-paced (occasionally hectic) environment, will not be afraid to ask questions when needed, and will have strong time management, prioritization, and follow-through skills. They will also be able to focus on the details while also considering the "big picture" of the project as a whole, balancing the company's needs and the client's needs, spotting potential areas of risk and taking steps to present them.
At MBD, you'll be part of a strong, supportive team at a growing company that is bringing a fresh perspective to the woodwork industry. We offer educational and growth opportunities as well as competitive salary & benefits packages.
How to apply: Click the link below to email your cover letter, resume and sample of bids or takeoffs you have prepared, if available. You may redact client and price info as we are looking more at methodology and level of detail.